Posted by Heebie-Geebie
on 10.26.20
I'm sure you all saw this, since it's been out for awhile, but there was so much to discuss last week that I put it on the backburner:
A story published last fall by The Daily Princetonian found that the Gold Coast of Connecticut pumps more athletic recruits into Ivy League schools than any other region in the nation. Kids' sports look a little different here--as they do in upscale neighborhoods across America. Backyards feature batting cages, pitching tunnels, fencing pistes, and hockey rinks complete with floodlights and generators.* Hotly debated zoning-board topics include building codes for at-home squash courts and storm-drainage plans to mitigate runoff from private ice rinks. Whereas the Hoop Dreamers of the Chicago projects pursued sports as a path out of poverty and hardship, the kids of Fairfield County aren't gunning for the scholarship money. It's more about status maintenance, by any means necessary.
I mean, what a complicated cage to trap yourself in. Class anxiety is its own reward, I guess.
There's also this one:
Before the pandemic, most agents would sell islands as a boutique fraction of their broader real estate business.
Now that many sellers report seeing a surge in island interest, several brokers said it was taking over more of their business.
The poor dears are overwhelmed.
"Before, an island was a toy," said Marcus Gondolo-Gordon, the chief executive of Incognito Property based in England. Now clients describe dreams of a "a bloody long boat ride" to ensure that no one will cruise up and infringe on their isolation, he said. They also want access to fresh water, solar panels and a house that is ready to sleep in, tomorrow.
Quickly setting up an island for self-sufficiency is going to be hard, Mr. Gondolo-Gordon has to tell them. Construction on private islands takes far more time than on the mainland or even on typical, nonprivate islands. And brokers cannot guarantee that islands will be safe havens from civil unrest. For example, just this week he looked at a lovely island in the eastern Mediterranean -- a steal at $7.4 million. But there are some tensions in those waters, which are contested by Turkey and Greece.
Some children in Africa have never even seen me play the world's smallest violin.
"You're going to have to read the news," he tells clients. And they'll also have to consider that their shoreline will most likely be affected by climate change. When they cannot handle this, he advises them to rent a superyacht.
Posted by Heebie-Geebie
on 10.23.20
Minivet writes: As I suspect was predicted, non-currency blockchain is not panning out as any sort of disruptor.


The only thing is that there's a huge gap between promise and reality. It seems that blockchain sounds best in a PowerPoint slide. Most blockchain projects don't make it past a press release, an inventory by Bloomberg showed. The Honduran land registry was going to use blockchain. That plan has been shelved. The Nasdaq was also going to do something with blockchain. Not happening. The Dutch Central Bank then? Nope. Out of over 86,000 blockchain projects that had been launched, 92% had been abandoned by the end of 2017, according to consultancy firm Deloitte.
Why are they deciding to stop? Enlightened - and thus former - blockchain developer Mark van Cuijk explained: "You could also use a forklift to put a six-pack of beer on your kitchen counter. But it's just not very efficient."
The article has a specific example where an app was developed and did some decent things, but it turns out to be a app with standard design plus a gratuitously inefficient backend, that never needed blockchain to begin with. Oddly, the article doesn't connect this to the Dutch subsidies for blockchain projects it mentions earlier.
When will the bottom fall out of all this?
Heebie's take: It's an interesting and sometimes funny article:
I called Maarten Velthuijs.
Hey, I noticed that your app doesn't actually need blockchain at all.
Velthuijs: "That's right."
But isn't it strange that you won all those awards, even though you aren't actually using the blockchain?
Him: "Yes, it's weird."
So how is it possible?
Him: "I don't know. We keep trying to tell people, but it doesn't seem to stick. You're calling me about it again now ... "
I mean, lots of people do pure math because it's interesting, or unapplied research in other areas, and they don't try to artificially jam ideas into square holes in the real world until there's an application that actually calls for it. But they also aren't particularly tempted by the siren call of disruption, sweet societal disruption, like these dummies are.

Posted by Heebie-Geebie
on 10.23.20
(This is intended to be our system for checking in on imaginary friends, so that we know whether or not to be concerned if you go offline for a while.)
Clearly I cannot keep this simple thing together. Maybe I'll just aim to keep one on the front page at all times.
Episode 52.
Posted by Heebie-Geebie
on 10.22.20
Teofilo writes: One of the most remarkable things about Trumpism, well beyond the man himself, is that it's just kayfabe and cargo cult all the way down. They seem to be sincerely incapable of understanding the concept of policy substance even on the level of "put words in your fake documents." As seen here.
Heebie's take: That photo is astonishing. They literally think that everyone is faking everything and it's the normal thing to do.
Anyway, I figured this was fitting for the debate thread. Let us know if anything interesting happens. I'm glad that their mikes are going to be partially blocked, at least.
Posted by Ogged
on 10.22.20
Other than your individual and collective moms, I don't think I've nailed anything quite like 10-year-old Henry Thomas nailed his ET audition.
Probably you've all already seen that, but it was new to me. Tell me, what have you nailed most satisfactorily?
Posted by Heebie-Geebie
on 10.22.20
Nworbie Wendrew writes: A glorious parable , from the New Republic:

Grappling with what to do about the bears, the Graftonites also wrestled with the arguments of certain libertarians who questioned whether they should do anything at all--especially since several of the town residents had taken to feeding the bears, more or less just because they could. One woman, who prudently chose to remain anonymous save for the sobriquet "Doughnut Lady," ... had taken to welcoming bears on her property for regular feasts of grain topped with sugared doughnuts. If those same bears showed up on someone else's lawn expecting similar treatment, that wasn't her problem.

Astonishingly, this attempt to bring about a libertarian paradise the backwoods of New Hampshire did not end well for anyone involved -- except, perhaps, the bears.
A real estate development venture known as Grafton Gulch, in homage to the dissident enclave in Ayn Rand's Atlas Shrugged, went belly-up. After losing a last-ditch effort to secure tax exemption, a financially ruined Connell found himself unable to keep the heat on at the Meetinghouse; in the midst of a brutal winter, he waxed apocalyptic and then died in a fire. Franz quit his survivalist commune, which soon walled itself off into a prisonlike compound, the better to enjoy freedom.
I were writing a history of post-Reagan America, this is where it would start.
Heebie's take: This book review is so much fun, omg. What a joy to read about the follies of libertarians being their most utter dumb-asses.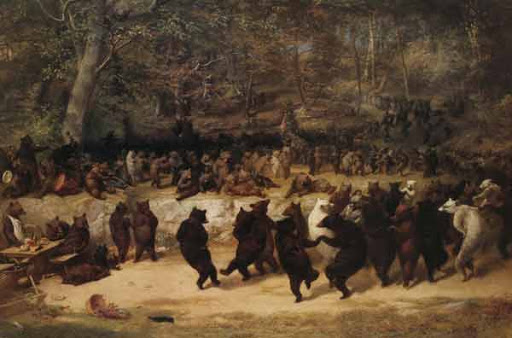 (Wallstreet Jubilee by Holbrook Beard, "an 'almost great' painter")
♫ If you go out in the woods today, you're in for a big surprise. If you go out in the woods today, you'd better go in disguise. For every bear that ever there was is gathered there for certain because today's the day the day the teddy bears have their picnic. ♫
(That is one that I like to sing to the Giblets. I strong-armed Nworbie into changing the post title from "Bear with me".)